Serving People & Solving Problems
one bottle at a time.
We are more than a bottled water company we are the answer to water concerns and consciousness in our communities and leader on the path to healthier and holistic lifestyles for all.
Become a Member of the Family Springs Community.
Enjoy exclusive access to our artesian alkaline bottled water and join us in our efforts to expand community outreach. Here's how:
As a member, you'll also receive 25% off any additional purchases of Family Springs Artesian Alkaline Bottled Spring Water. Just select the "Water Combo" option to add additional cases of bottled water or 5 gallon bottles to your cart before check out.
Pick Up & Delivery
Service
Flat Rate Local Delivery

Deliveries Mon-Wed-Fri
Free Local Pick Up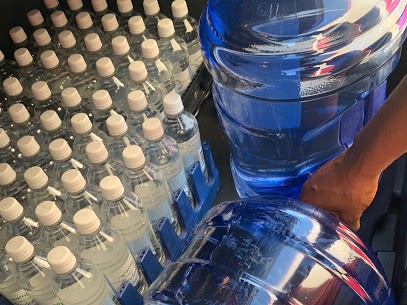 Experience the clean crisp taste of natural artesian alkaline bottled spring water. Delivered from the source to your door or schedule a pick up from a local water hub.
We no longer ship but guess who? Here's a list of other black brand water sources that do.
Search for one near you!
What inside
Mineral composition (7.8 pH)
Calcium+
0.57 gr/gal
Magnesium
1.110 gr/gal
Sodium Chloride
20-25 gr/gal
Potassium Sulphate
0.116 gr/gal
Chlorine
~46 mg/dm3
Organic Matter
0.275 gr
Carbonic Acid in Bicarbonates
7.14 gr/gal
Calcium Carbonate
6.749 gr/gal
Testimonials
What our customers are saying